Assisted Purchase - Your Personal Shopping Assistance
In most recent years, there has been a significant increase in online shopping and purchases. People love to buy products by just clicking and sitting at home. This increase in online shopping trends may be caused by various factors, such as higher-quality products in front of your screens, frequent discount deals, sales and promotions, and brand loyalty to known USA brands. With this rise in online shopping trends nationally and internationally, we are still finding many international shoppers battling hard to buy their desired products online on several US websites.
Assisted Purchase is an online purchase that a third person, or any Package and Mail Forwarding Company, makes on your behalf. It's a service to help an online shopper who wants to shop from any US-based online store but do not have any internationally valid debit or credit card.
Have you ever tried to buy any favourite product online and faced any troubles?
If yes, then we at Splice Packages will show you the right path, through which you can start shopping today at any US-based website without any stress or headache. The best part is that the whole process is so simple; all you need is to make a list of all your favourite products you want and sign up for an account at Splicepackages.com. So, let's get started!

Why Splice Packages?
Splice Packages is finding ways to make online shopping from the US, convenient for our online shoppers all around the globe. We offer multiple services to our valuable users, including Free Warehousing, Package Consolidation, and Doorstep Delivery; there is an addition to these services, including the Splice Packages Assisted Purchase option. We know there can be complications when you are placing orders from outside the USA.
We are there to help wholeheartedly when your payment methods are not working with US online stores. Most US stores do not accept payments from outside the USA and require US Credit/Debit cards for orders to lower the scams and frauds. Not only the payment methods but some stores won't deliver items to Package Forwarding Company's Address. Splice Packages Assisted Purchase Services helps you to shop your desired items from such stores. You can place an order with Splice Packages from your user dashboard, and we are going to make purchases for you smooth and quick from the US stores.
Why Assisted Purchase?
Some of the common issues online shoppers face, living outside the US when they try to shop online:
• Lack of PayPal account or an international credit card
• No access to any physical US address or local phone number
• Websites aren't user-friendly, that makes it difficult to execute the whole process
• Size units and options for shoes or clothes are different in the US
In this situation, a Package or Mail Forwarding Company like Splice Packages is just like having your shopper who can make any assisted purchase from the USA or provide you with multiple options to help you in what you wish to purchase.
How Assisted Purchase Works?
1. Find the products you want to purchase from any USA online store and save all the links to those products.
2. Free Sign up to any Package and Mail Forwarding Company (like Splice Packages).
3. Fill out the Form "Buy-For-Me" with your products' saved links and submit a request.
4. Once the team get your request, you will receive an invoice.
5. After going through your submitted form, you will receive the invoice from PayPal, or you can have the option to transfer money to our Bank with the location in the USA.
6. Once the payment is received, the company's Shopping Agents can purchase your items on your behalf.
7. After successful purchases, you will receive an email from the company representative and another email when the items arrive in the warehouse.
8. The team will later check or consolidate the items on your request so you can save some extra money on all the postage fees or shipping charges.
9. You will also receive the estimate of shipping charges.
10. Just tell your shipping option you prefer, and the shipping invoice will be received. Also, your package can be stored in a US-based warehouse, up to a maximum limit, vary from company to company.
Try Now
What Do You Need To Provide Us?
Here is a list of all the information, you need to provide to Splice Packages' Representatives, to complete the request:
• Website Name where you want to purchase
• The Site URL
• Products Name
• The Complete Details (Color, Size, etc)
• The URL or Products (You want to purchase)
• The Mentioned Price under Products
• The Quantity of Every Product
The best thing is, you can add as many products as you wish just by clicking the single button. Once you successfully checkout from the cart, all you need to do is provide the warehouse address based in the USA where your products will arrive, go ahead with any added instructions, and successfully submit the Assisted Purchase request.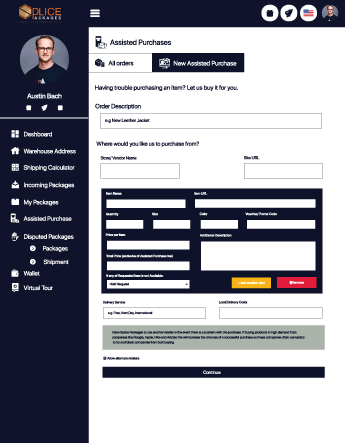 Benefits Of Assisted Purchase From USA
At Splice Packages, we are always ready to please our valuable customers to provide our Assistance Purchase services. The concept is minimal; we make the purchases for you when you cannot do it yourself. Today, many people go through this process of purchasing online products from US online stores. They may never need anyone to purchase goods on their behalf, but sometimes they may find this "Assisted Purchase" service necessary and beneficial.
Benefits
• When an online retailer does not accept your payment method.
• When the retailer does not accept international PayPal accounts or international debit/credit cards.
• When the retailer does not accept transactions from any foreigner or someone with a non-US IP address.
• When the retailer has Shipping Address or an IP filter.
• When the retailer's website asks you to make an account with a local US phone number or other likewise requirements that you cannot fulfil.
Purchase Limitations
• We cannot make any purchases that are banned from being shipped by shipping carrier or companies like FedEx or DHL internationally.
• We cannot do purchases of those items that your country do not allow to import.
• We cannot make purchases from those sites that do not seem authentic or lack any secure payment pages.
• We cannot make "money purchases", i.e., purchase of gift cards, pre-paid credit or debit cards, or any other such purchase.
Our company reserves the right to refuse the items or purchases that we feel are problematic for us in the future for reasons not listed above.
How Splice Packages Help In Shopping Online From US Online Stores?
Splice Packages shops for you. Suppose you are having any trouble or difficulty ordering your favourite products online i.e. latest gadgets, trendy outfits, funky shoes or any makeup product. In that case, we can shop for you on your behalf. We at Splice Packages are able to purchase those products that are quite hard for you to buy from numerous online retailers. You will pay us by using your Splice Packages Membership account, and you will get your desired item, whatever you need.
Our Team is not only providing the Assistant Purchase services, but we are also an international package and mail forwarding company. This means that we can shop and ship your desired items from the same website,where you want to shop.
We do not outsource any step throughout the processes to make the work quick and effective and satisfactory. And if we need to make alterations, we first try fix the issues that come up or ask your permissions to make changes. So, you just need send one email on our address at support@splicepackages.com if you need to contact us in any questions or problems, so that our cooperative staff help and assist you to get things done right.Having done everything under one roof can prevent many communication problems.As far as the Payment Options are concerned, there are many payment options available these days, including Bitcoin, PayPal and wire transfers, however, all the payment options aren't always available.
To make it really easy for our valued customers, Splice Packages have partnered with some of the leading providers of virtual, prepaid debit cards, that makes it effortless and smooth to shop from US online stores from anywhere around the globe and get them shipped to you at your doorstep with the best and cheapest shipping rates available.